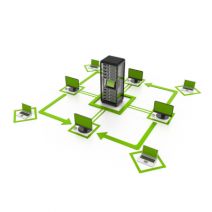 In business, you need to be competitive to experience growth. Otherwise, your competitors might catch up and surpass you when you least expect it. When your computer network is reliable, you can know with certainty that your employees are operating at optimal efficiency. For a small or medium-sized business, this can mean all the difference.
Granted, the SMB might feel overwhelmed by the incredible advantage that major corporations have in the industry. They might be backed by buying power, but as a SMB, you have one advantage that they can't hope to match. You can make decisions on the fly, while the enterprise is forced to muddle through chains of command to accomplish the same goal.
With so many departments, branches, and higher-ups standing in the way of integrating new corporate policies, it's a safe bet that any big changes that will probably take a significant amount of time to get anything moving. One example of this is a major fast food chain restaurant. They might spend years upon years developing a new menu before it's released, while the owner of a small local restaurant might only need to spend a day or two putting together exciting daily specials.
If you're not jumping on this important, mission-critical advantage, it's important that you do so immediately. Otherwise, you would be letting a prime opportunity go to waste due to indecision. One of the best ways you can use this choice-making authority is by improving the status of your network. InformationWeek explains:
One advantage of being an SMB is the ability to react more quickly than larger competitors. But if your company network is frequently down, sluggish, or unsecured, that competitive advantage is eroded.
Nobody wants to spend time troubleshooting their network, especially when they have so many new ideas to push their company to the forefront of the competition. When a computer network is experiencing poor maintenance, you can tell. It starts underperforming, and grows more susceptible to hacking attacks. InformationWeek describes how a network should be operating if it hopes to stay competitive:
A secure, reliable, self-defending network based on intelligent routers and switches provides your business with maximum agility by providing reliable, secure access to business intelligence. What's more, a secure, reliable network infrastructure provides the necessary foundation for a number of efficiency-enhancing technologies and solutions, such as IP communications.
Managed IT services from Infradapt can help your business achieve the highest level of competency in your designated industry. With our outsourced IT management and maintenance, your company's network can go from being a problem to an afterthought. We deal with technology issues of all kinds, and we know how to bring the best value to our customers. By concentrating less on your technology and more on your business, you can get back to what really matters: Providing the best product out there for your customers.
Contact Infradapt today to schedule an IT consultation. We'll check out your network and help you work it into something that knocks the socks off of the competition.