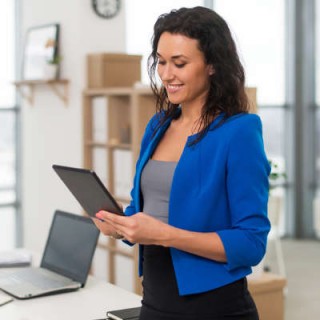 A responsible business owner looks at the repercussions of their actions, however, it's not always easy to determine what the right action is. Something to keep in mind is that, if it benefits the long-term mission of your organization, chances are that it's the right thing to do--especially with technology solutions.
---
For an example, let's take a look at the procurement process for new technology acquisitions. Some laptops will run a price tag of $200, while more advanced models could extend up into the thousand-dollar mark. It's important to remember that when buying new technology, a higher price tag generally means that you'll be purchasing something that's more reliable, more powerful, and more functional. However, those that are too focused on short-term decision making will wind up staring at that price tag and questioning their decisions. They might choose to go for the less expensive model in order to save some cash in the short-term, but this could be a big mistake.
Administrators and managers who go all-in on new hardware don't just do so for bragging rights--they do so because it's certainly worth the cost in the long run. Reliable technology is invaluable, especially if workers can't do their jobs because their technology solutions don't work properly, you'll feel it in your budget. Investing in quality hardware can help you avoid this issue entirely.
You can apply this train of thought to how technology can affect employee productivity, along with their morale. If they are using inexpensive hardware in an attempt to save some money in the budget, chances are that they will know--especially when the hardware breaks down frequently and they have to deal with frustrating downtime.
A short-term thinker might not see this as a problem, as they believe their workers can suffer through it and appreciate what has been given to them to do the job they are paid to do. However, a long-term thinker will see this for what it really is: a problem. Only by equipping your organization with quality technology solutions can you expect them to get the most work done. InformationWeek explains: "better devices lead to higher productivity and morale. According to a UK survey, more than two-thirds of workers felt negatively about their workplace, in part due to outdated technology and practices, with the average worker being frustrated with office tech around three times per day."
Now, think about how much more productive each of your employees will be if they use technology that actually works the way that it should. Their morale might even improve as well, and with it, the quality of their work. This keeps you from suffering due to the cost of employee turnover, which is more than enough reason to purchase quality technology.
These words of wisdom can also be applied to how you take care of your technology after you've acquired it. Viewing your organization's technology as a short-term expense will inevitably lead to you spending more money than necessary on IT maintenance. If you take a proactive, long-term approach to it, however, you'll wind up saving money in the long run by preventing issues from escalating into major problems in the first place. This saves you both time and money, which is hard to argue with.
If your business wants to take full advantage of its technology solutions and IT infrastructure, reach out to us at 800.394.2301.