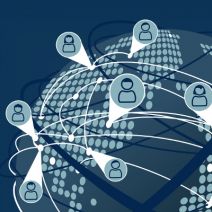 Does your office take advantage of unified communications solutions to communicate efficiently within the workplace? If your employees aren't taking advantage of the mission-critical communication applications your business provides for them, not only will it be frustrating to contact them, but it might also cause miscommunication; a common cause for error. Regardless the size of your workforce, your business can benefit from a unified communications solution.
Unified communications is a term used to describe the combination of communication applications, commonly including instant messaging, voice telephony, and email. If it's something that helps your team effectively communicate, it's probably part of a unified communications solution. If you consider it for a moment, it would be silly for your team to use mismatched communication applications.
Infradapt can equip your business with several different components of a unified communications front.
Instant-Messaging: When Email Isn't Urgent Enough
One of the best ways you can communicate in the office is through an instant messaging system. This allows you to address issues with a sense of urgency that email can't provide, while avoiding awkward phone calls. Infradapt can equip your business with a dynamic instant messaging infrastructure that helps you maintain day to day operations. In fact, you can even store recorded conversations for later viewing.
VoIP Phones: Eliminate Landline Expenses
Instant messaging is useful, but not nearly as useful as a flexible voice communication system. With VoIP, you can transmit your voice over your Internet connection, allowing you to get rid of your landline phone system (not to mention all of its expenses) for good. By today's standards, switching to a VoIP phone system is considered a best practice; so, if you want to maximize efficiency and return-on-investment, going with VoIP is the recommended business telephone solution.
Email Archiving: Manage Your Email Efficiently
What unified communications solution is complete with email management? Using a unified email solution is much more convenient than using multiple different email providers, and it looks much more professional. Despite many professionals arguing that email is unreliable, it's still a staple in the modern office. Infradapt can equip your business with a unified email management solution that's designed to maximize communication and minimize data leakage. Our email solution even allows you to archive emails if you need to address an issue later on, and of course, to comply with security regulations like HIPAA.
In the end, you want to make sure that your team is using your unified communications solution to improve collaboration across different devices. To integrate a solution like this, contact Infradapt at 800.394.2301.